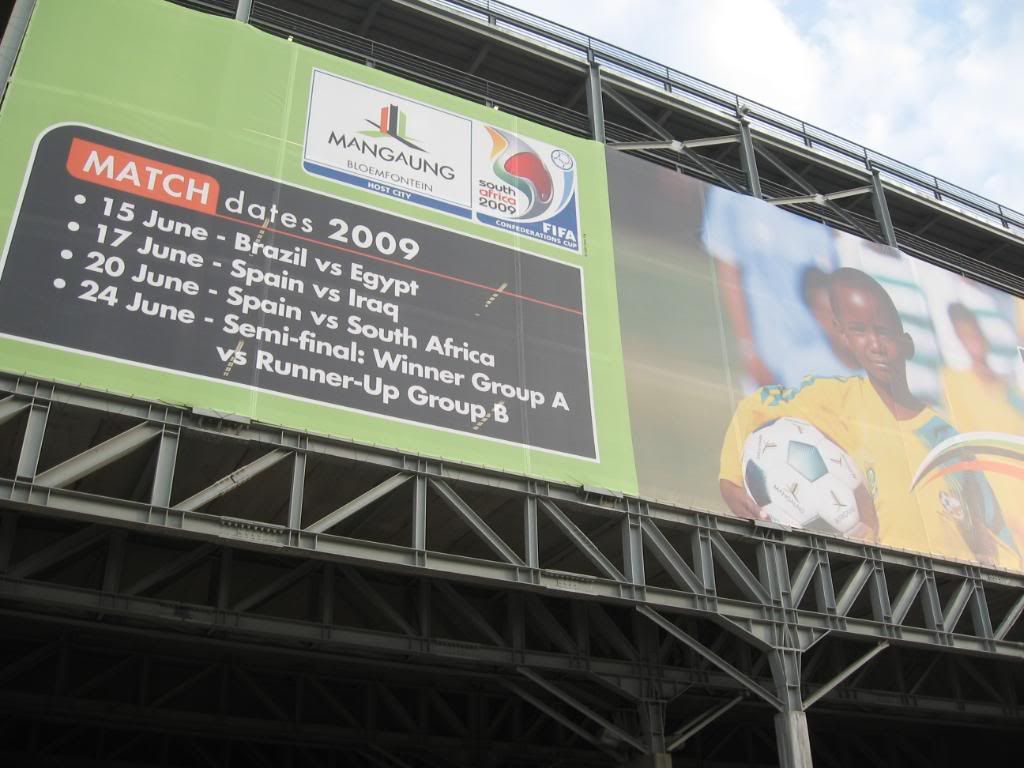 I had originally planned to go shark cage-diving on my own for the upcoming Saturday and was looking forward to getting up close and personal with some Great Whites and live to tell the story. But later that Thursday night, Lisa and I had discussed the possibility of going to a Confederation Cup soccer game on that Saturday. She wanted to further her research on stadium development whereas I wanted to experience more of South Africa and take part in South African pride. I was curious as to which match she had wanted to watch, and when she said, "South Africa vs. Spain," I knew right away I wanted to go. I am a big soccer fan and had been following the Cup closely, and was open, but skeptical about the idea that we could find bus tickets to leave the very next day for the game.
Friday morning (June 19), at the crack of dawn… well, more like 9am… we both woke up early and looked at various tour bus companies that were scheduled to leave from Cape Town to Bloemfontein, which is where the game would be played. We walked across Sea Point to Checkers and Shoprite, hoping to reserve seats on a tour bus. It was very difficult to find openings, and we were prepared to give up, but decided to give it one last attempt. I called InterCape and asked if they had any available seats for a bus leaving the same night to Bloemfontein. To my disbelief, we were able to book two seats leaving Cape Town and arriving Saturday morning in Bloemfontein, and a return ticket leaving two hours after the game. This looked very promising, but I remained cautious as I am more used to planning ahead and anticipating obstacles rather than spontaneously put together a trip at the very last minute. Still, I remembered my roommate from D.C. telling me to put myself out there and see what happens. So I decided to take a chance and gain new experience. As we left Stonehourst, David Hirschmann wished us a safe and fun trip and to bring back a victory. I told him that I would use my divine powers to give South Africa the win, and create the upset of the year. The entire bus trip to Bloemfontein would take a grueling fourteen hours, but once we arrived, the excitement had already begun.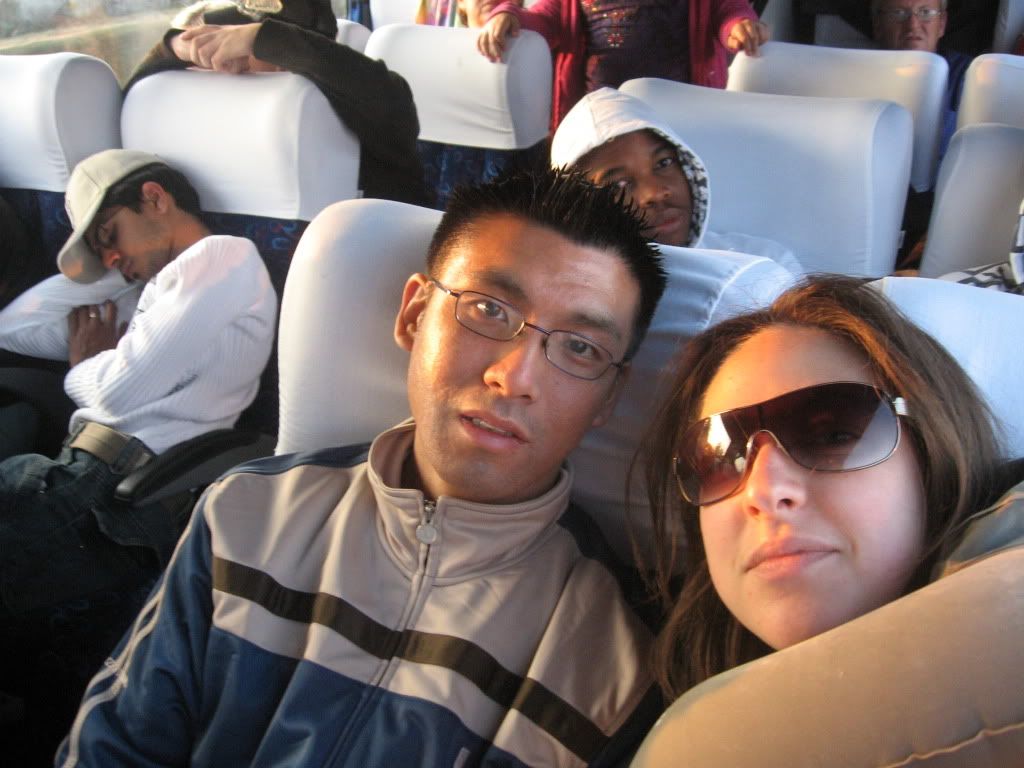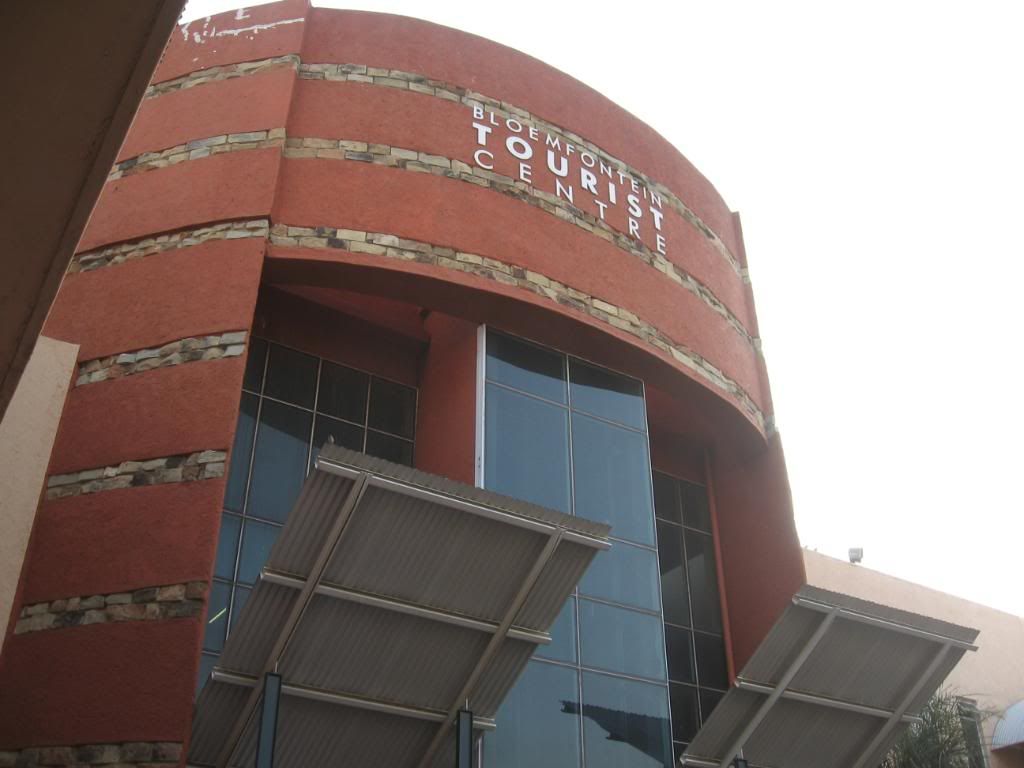 From the tourist visiting centers to the public restrooms, people were talking about the game. The atmosphere was full of buzz and anticipation, and I felt so much excitement, especially since it was going to be my first live soccer game. I had been following the tournament, and could not wait to see the entire South African and Spain teams, and also some of the world's best players, Fernando Torres (El Nino) and David Villa in action. Everywhere we walked, people wore South African jerseys, showing pride in their team. But Bloemfontein was not Cape Town, and Lisa reminded me to be extra careful showing my valuables. I had already gotten some looks from the locals, and agreed to be more cautious. We went to the Waterfront Mall to pick up our tickets and witnessed a huge crowd trying to get in line and fighting their way into the FIFA ticket center. Fortunately, Lisa and I had bought our tickets online and were shown to the front of the line. People were arguing over line positions, hoping to buy the cheapest tickets and we were both afraid of being targeted for getting our tickets first. The entire process went smoothly, and we decided to spend most of the day wandering around the Waterfront Mall and stayed close to the stadium.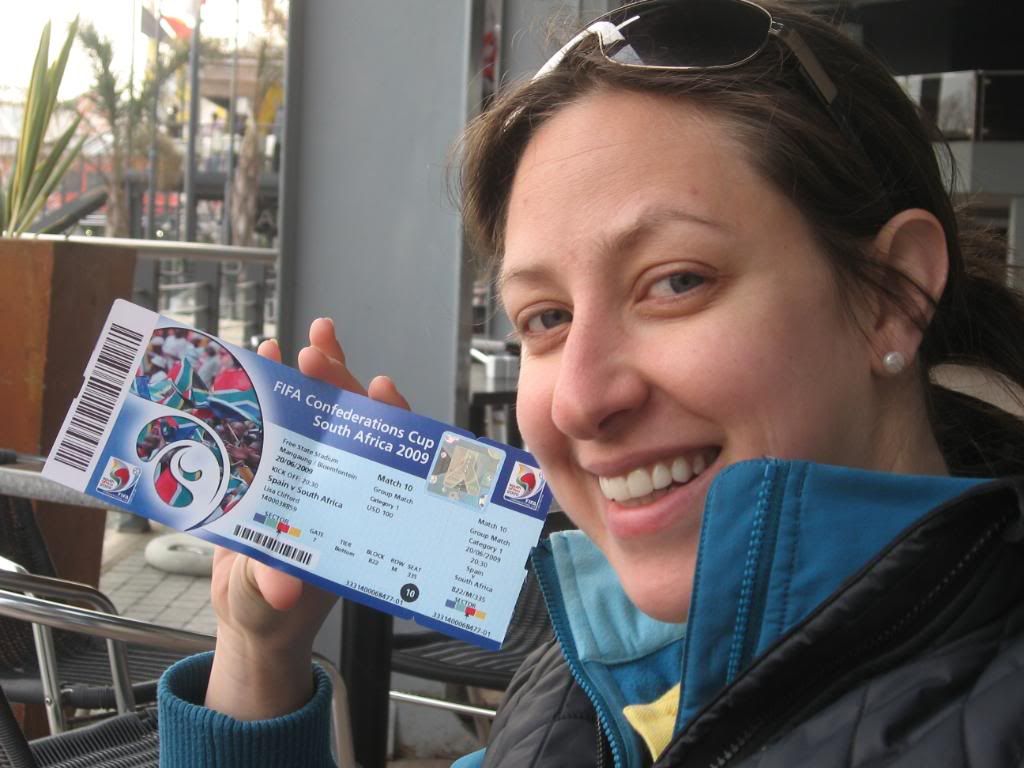 Throughout the day, I tried to pressure and convince Lisa to buy a yellow South Africa jersey, but she resisted. She had also tried to pressure me into buying more clothes, but I somehow found the strength to resist. Actually, I was ready to buy a sweater, but the power went out, and the mall eventually closed (oh well, *shrugs*). At 6pm, we were already in line waiting to get inside the stadium. Once we got past security, we were excited to find our seats only 13 rows behind midfield. They were among the best seats in the house!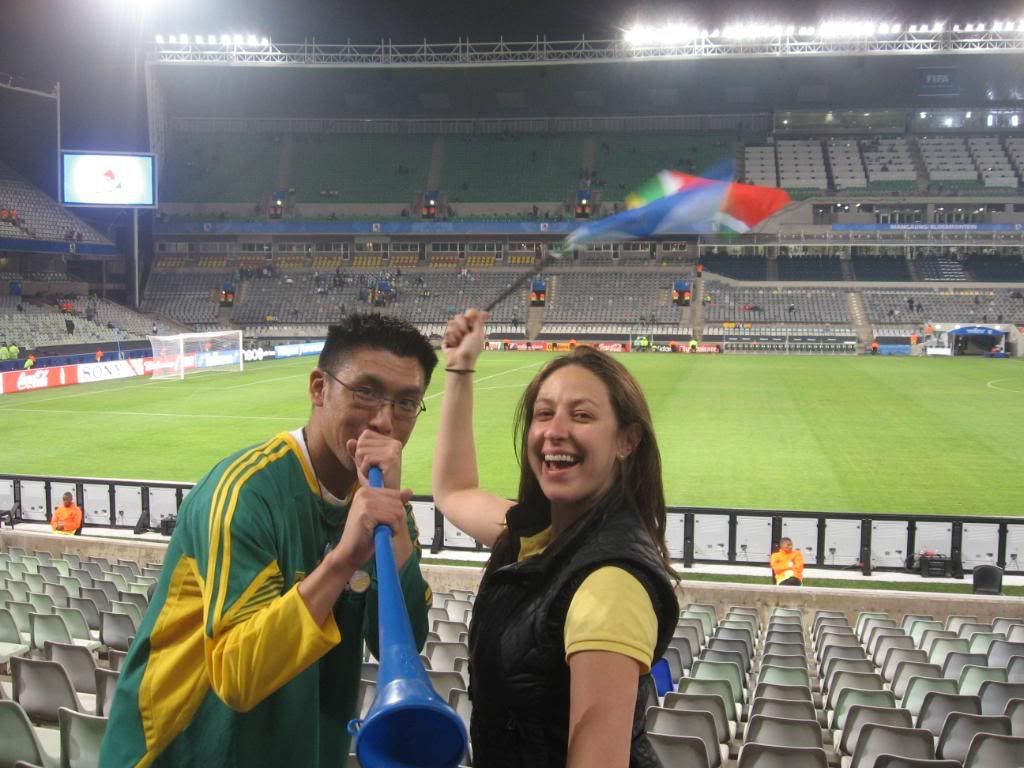 There were still 2 ½ hours before the game, and I decided to take some video footage of the stadium. Looking around the stadium was such a breathtaking moment and we could not wait for the game to start!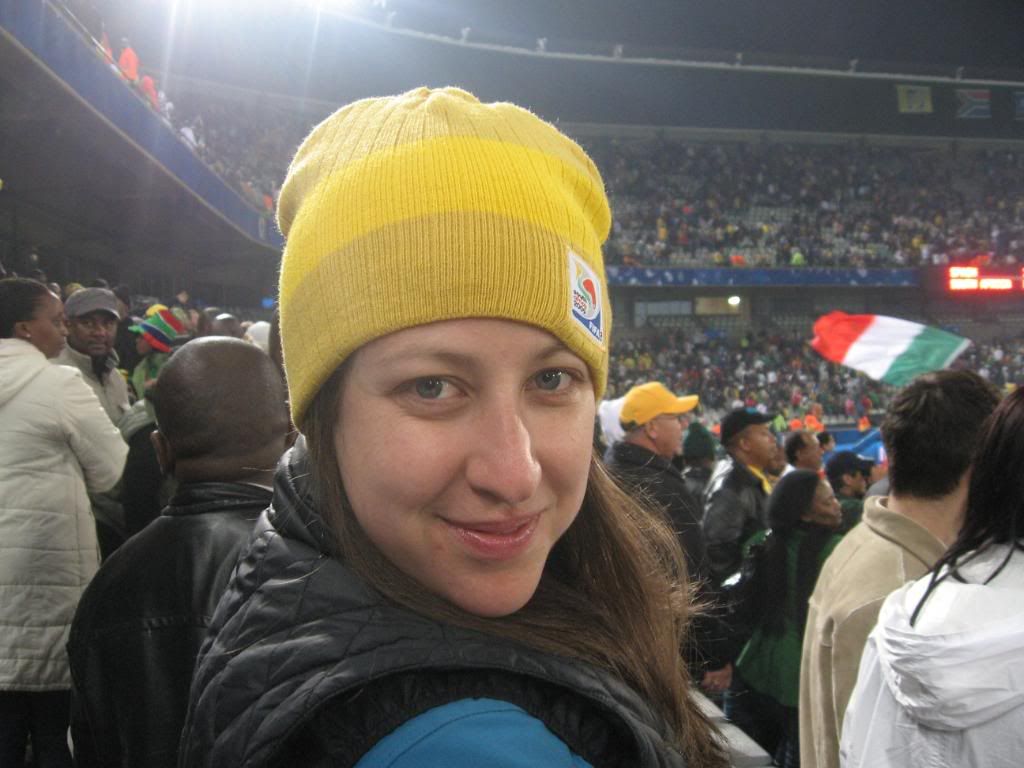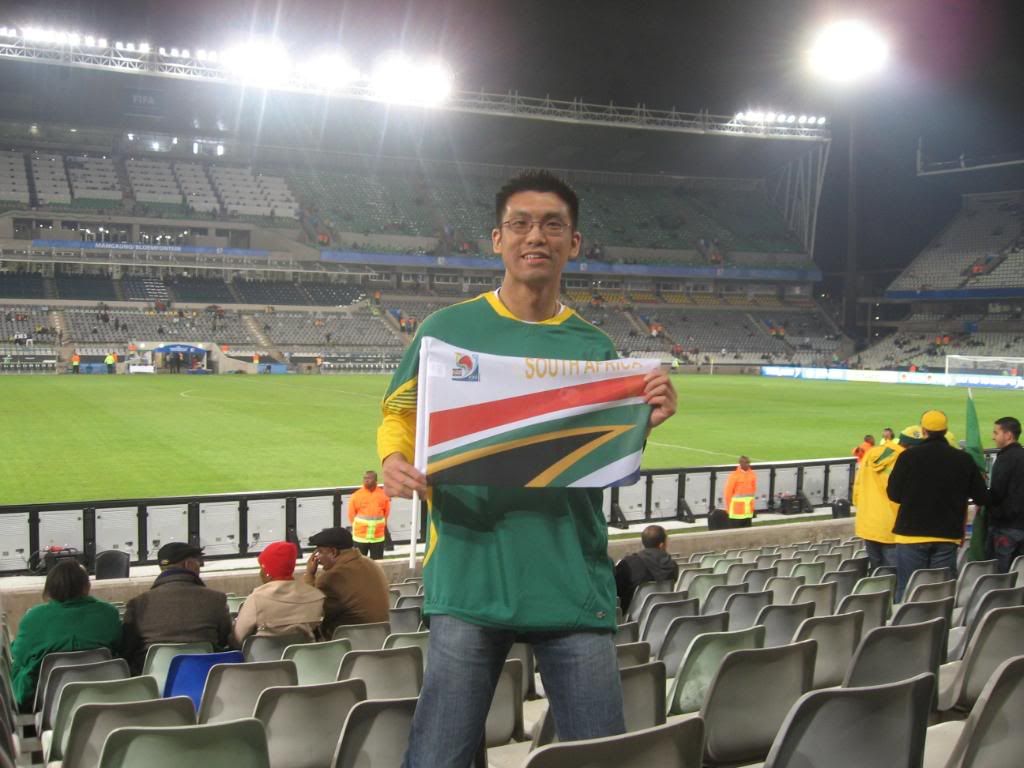 We were surprised by an interviewer from Sony Entertainment, who approached and asked if we could speak on camera to give a shout out to all the soccer fans. Of course, how could Lisa and I decline the offer? It was quick and simple, and we were given waiver forms to sign to allow Sony to release it on their website: www.sony.com/football. I had expected the stadium to be half empty since past games seemed to have fit that pattern, but the stadium was filled that night, and the atmosphere was electrified by all the fans cheering, singing, blowing into the vuvuzela horns, and waving flags, for their respective teams. Lisa and I had so much fun cheering and waving flags alongside the fans, and for the South African team.

Throughout the game, we experienced an emotional rollercoaster ride as South Africa came close to scoring at least one goal against the defending UEFA Euro 2008 Champions and current #1 ranked soccer team in the world. There were cheers, applause, and at times, frustration among the fans, as South Africa failed to capitalize on numerous fast breaks. The first half was scoreless between Spain and South Africa, and the fans were both excited and anxious to see the second half. I was a bit worried because Spain has been known to finish games decisively and Saturday night would be no different. The biggest moment came shortly after the second half began, when Spain's David Villa was awarded a free penalty kick against South Africa. The goalkeeper, and birthday boy Itumeleng Khune, had been flawless throughout the game and had not allowed a goal in the entire tournament. I could hear Lisa yell, "Oh no!" as the entire stadium stood nervous, waiting for Villa to make the next move.
http://www.youtube.com/watch?v=wb6rdIW12tY

We held our breaths as Villa kicked the ball, expecting the worst, but it was blocked! The crowd went nuts as Khune blocked the rebound kick from Carles Puyol, and the chanting and singing began. But less than a minute later, Villa placed a razor shot that gets past the diving goalkeeper inside the right-hand post of the goal. That took our breaths away and quieted the entire stadium. However, moments later, South Africa threatened repeatedly with fast breaks, and the crowd was once again rejuvenated with energy. But much like the first half, South Africa could not take advantage of the fast breaks and Spain eventually scored a second goal. This time, the stadium stayed quiet as the crowd knew that Spain had the game won. In the last few minutes, South Africa came close to scoring a goal, but Spain's defense was just too good.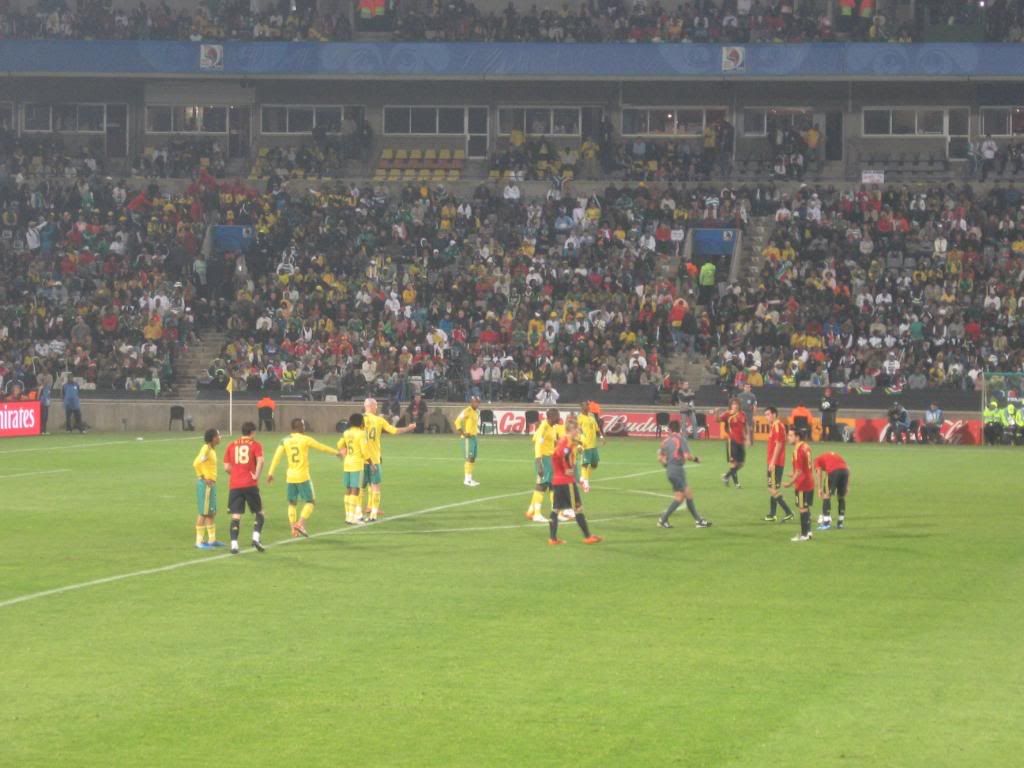 As we started to leave the stadium, the PA Announcer informed us that the final score between Iraq and New Zealand was 0-0. This meant that South Africa had ensured a spot in the semi-finals, and will play Brazil, Egypt, or Italy from Group B, depending on Sunday night's results (UPDATE: South Africa plays Brazil on June 25th, a day after U.S. upset Spain in semi-finals). The crowd erupted and the celebration began. Lisa and I would only have to wait another two hours before our bus arrives to take us home. Fourteen hours later, we're back in Cape Town. I could not sleep the entire way back to Cape Town, and part of the reason was because I was trying to think of the last time I experienced this much excitement and happiness. I had never experienced such an electrifying atmosphere, where thousands of people came together as one unified group, cheering for the same outcome. I had never felt so excited or happy, and realized that what I experienced last night was truly special and amazing. It was definitely the best night of my life.